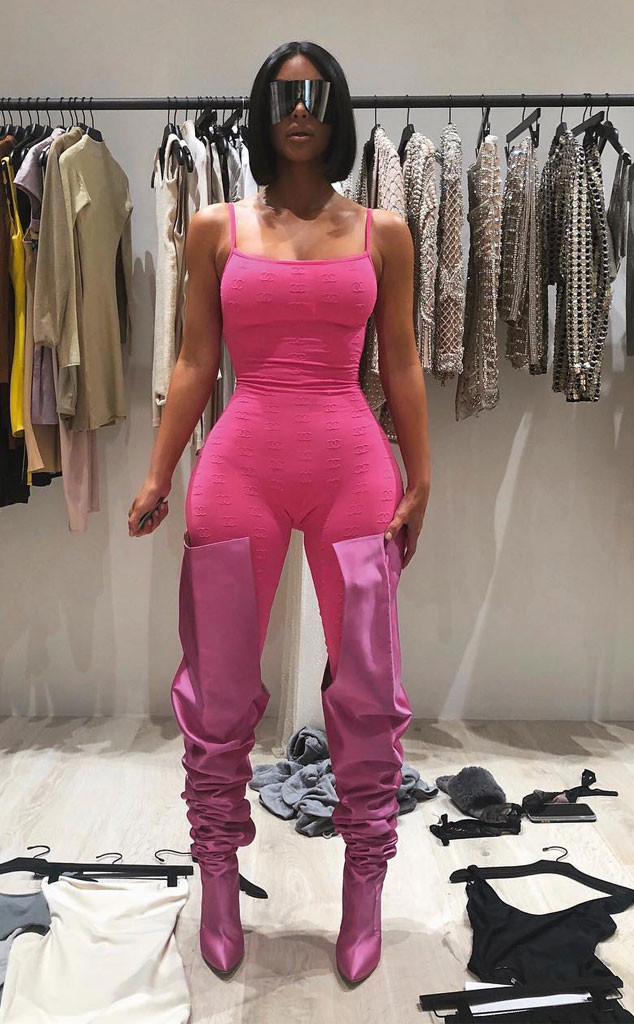 Instagram
They say clothes make the woman, and Kim Kardashian is no exception.
From neon bathing suits and Yeezy clothing to high fashion dresses and bodysuits, Kim has a wide-ranging variety of clothing that turns heads wherever she goes. 
On Feb. 18, for instance, she wore a vintage 1998 Thierry Mugler dress to the Hollywood Beauty Awards that included cutouts in the chest and a thigh-high slit. She expertly avoided a wardrobe malfunction, which may not have been the case for anyone else. Just a few days after that, she traveled to Canada as a part of the Montreal Museum of Fine Art's new exhibition centered around Mugler and his designs. She wore a stunning one-shoulder lavender dress with gold tones to it that made her look like a total Greek goddess.
She's a staple at fashion weeks around the world and a trendsetter at that. Not to mention she also gets custom dresses and outfits from husband Kanye West's Yeezy line.
Kim isn't afraid to try out new hair colors that tend to match her outfit of choice that day either. In February, she showed off a new red hairstyle and months before that spent a night out on the town in Miami donning a neon green wig.
The KKW Beauty owner's influence has extended to her children, too. 
North West, the oldest of the three (and soon to be four!) kids, has a tendency to invade her mom's closet and channel her inner fashionista. In January, the 5-year-old opted for a pair of neon pink and orange wedges with flames coming out of the end. She appropriately posed in front of some Louis Vuitton and Virgil Abloh handbags to boot.
On April 24, Kim posted a photo of North getting ready to go for the day in a matching pink snakeskin-pattern outfit. But there was one catch. "Sooooo Miss North dressed herself and thought she was ready for the day until I explained she couldn't wear my boots," Kim wrote on Twitter alongside some photos of her daughter. North appeared less than pleased to learn she couldn't keep the boots on for the day and even started crying.
One day soon, Northie!
Just like big sister North, not even Chicago West can avoid the temptation of her mother's extensive shoe selection.
Clothes are a force of power for the Keeping Up with the Kardashians star. Her Monday fitting was a prime example of that. Kim uploaded a photo on Instagram of herself wearing a neon pink body suit that perfectly hugged her curves and showed off her toned physique. She matched the power outfit with a pair of thigh-high pink boots.
She captioned it, "Pink Power Ranger Kimberly."
We're feeling the power!
The Pink Power Ranger look is just one of Kim's many, many envy-inducing outfits and fittings. Check out the photos below to see some of her other most glamorous looks from her closet.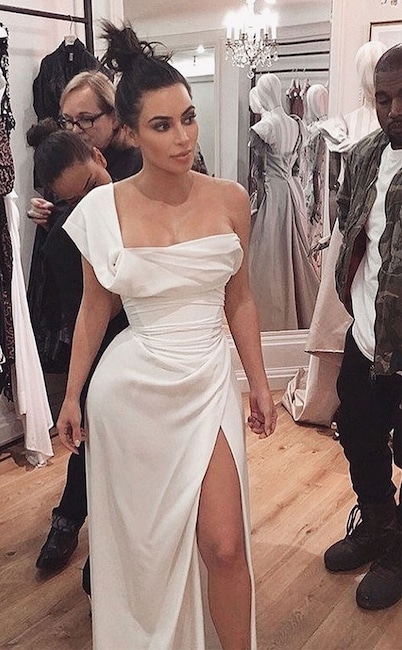 Instagram
All dressed in white

Kim Kardashian rocks a top knot during a fitting at Vivienne Westwood in London.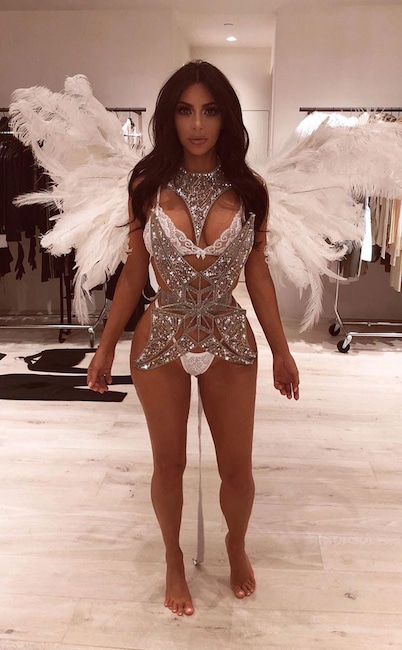 Instagram
Fly, Angel, Fly

The KKW Beauty owner channels her inner Victoria's Secret Angel in this stunning lingerie look.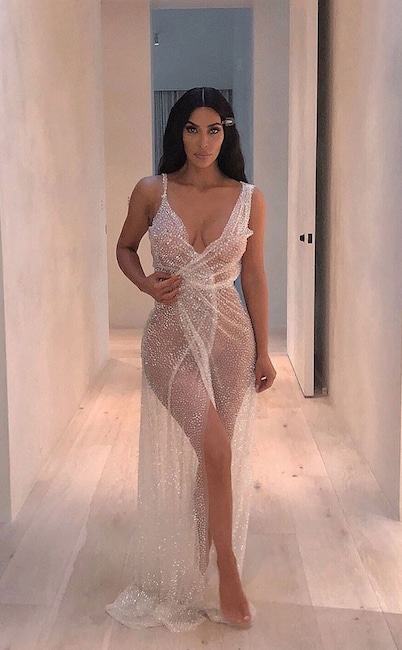 Instagram
Sheer beauty

Kim nearly bares all while striking a pose in her hallway.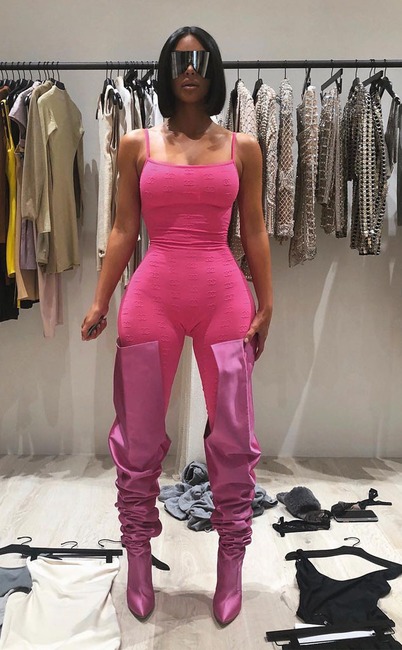 Instagram
Pink is power

Kim flaunts her toned physique in a neon pink bodysuit that makes her feel like the Pink Power Ranger.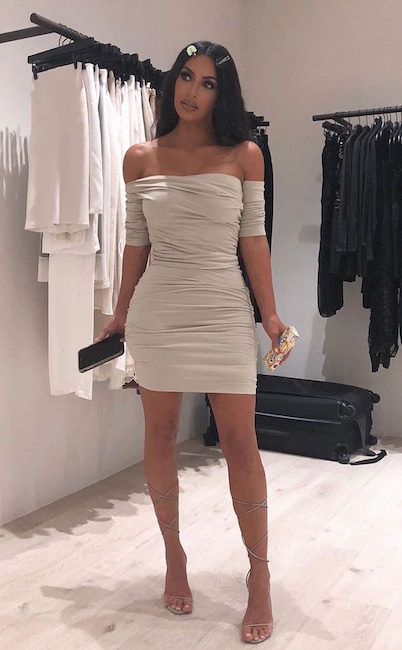 Instagram
Kanye's Klothing

Kim looks playful while holding candy in her closet. "Kanye dressed me up like a doll," she writes on Instagram.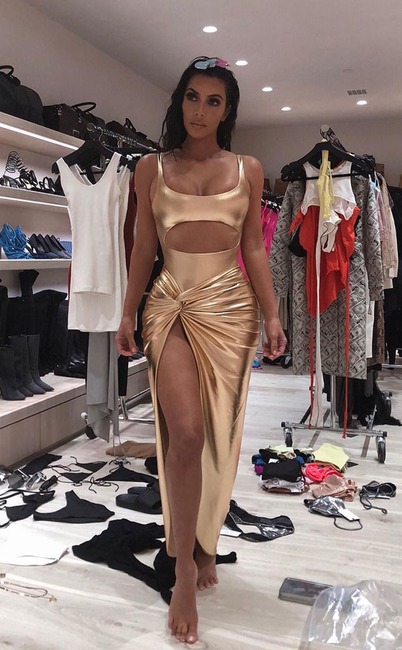 Instagram
Go gold

Kim shines like the sun in her all-gold outfit. She explains on Instagram, "Going through old fitting pics & found this gold look that Kanye made for me for my Miami trip last summer (I went w the neon vibes instead)." She then adds, "P.S. fast fashion brands, can you please wait until I wear this in real life before you knock it off?"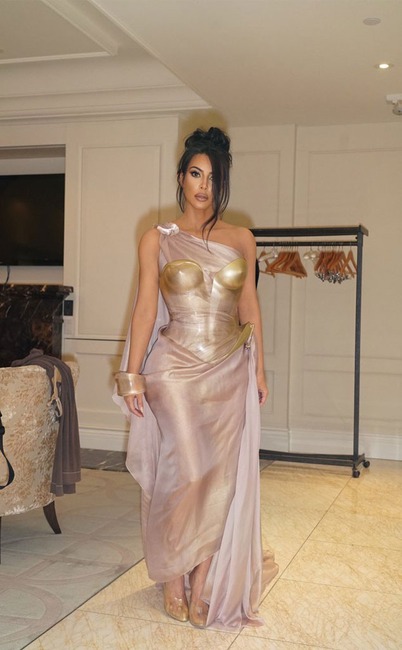 Instagram
Goddess of the fittings

Kim exudes elegance in Montreal before a VIP dinner at the Montreal Museum of Fine Arts for an exhibit about the designer Thierry Mugler. She wears one of his dresses here that makes her look like something straight from Mount Olympus itself.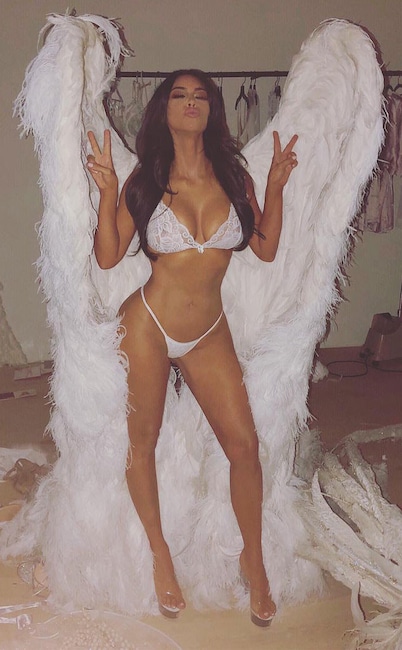 Instagram
Up, up and away

Kim blows a kiss while wearing her Victoria's Secret Angel wings. She and her sisters all wore different VS wings on Halloween and it was a sight to behold.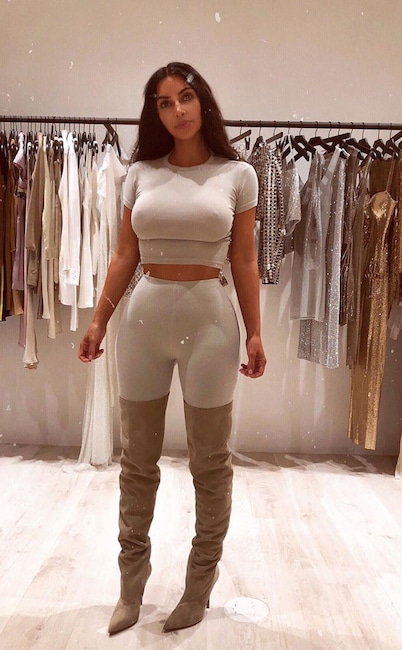 Instagram
Start the morning off right

Kim explains in her Instagram caption that this look is from a "morning fitting." If only we could all look this glamorous first thing in the A.M.!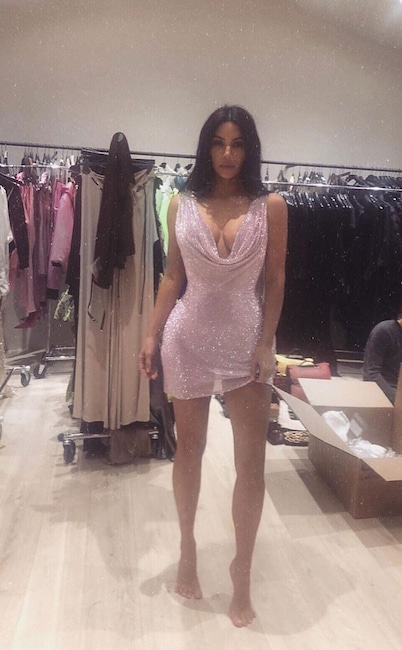 Instagram
Sea of sparkles

Kim flaunts her toned legs as she poses in her closet. This snapshot is just one of many as she jokes, "I have fitting pics for days."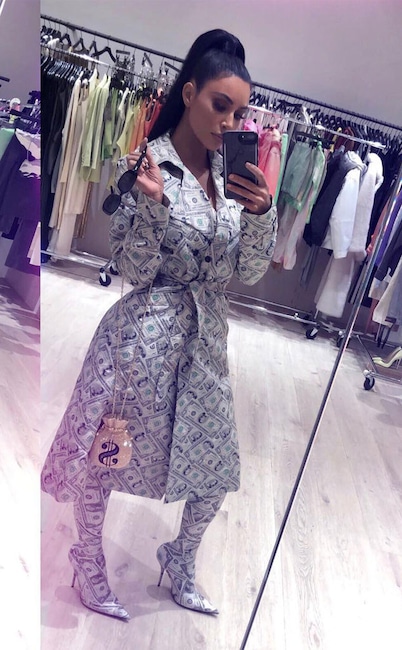 Instagram
Mo money, mo pictures

If you got it, flaunt it.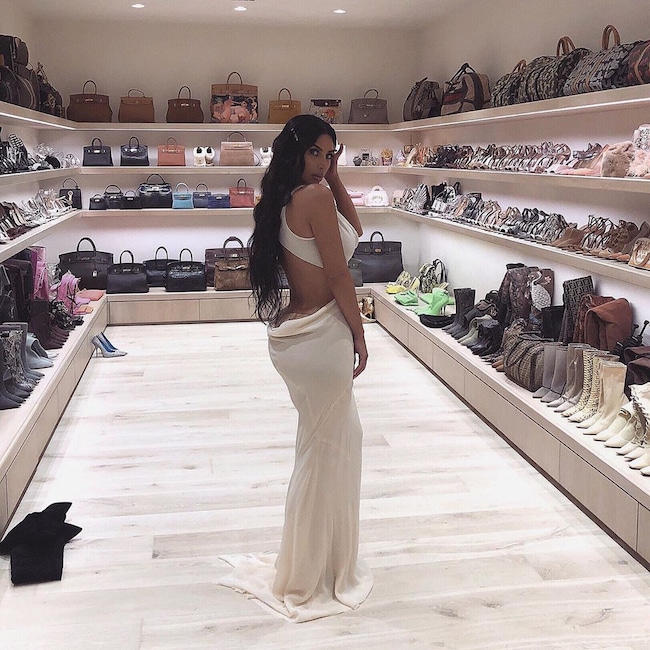 Instagram
Shoes on shoes

Kim gives a sultry glance at the camera in her Rick Owens dress while giving people an inside look at her shoe-filled closet.
One can only imagine what her Met Gala 2019 fittings looked like. Only a few more days until we know for sure!
Watch a brand new episode of Keeping Up With the Kardashians Sunday at 9 p.m., only on E!